Unparalleled Transportation Services
At Idaho Towncar, we take immense pride in offering top-notch transportation services to our esteemed clientele. We believe in making every journey a memorable one, be it an exquisite wedding, a lively quinceañera, a memorable sweet sixteen, a joyous prom, or an exquisite wine tour. Our limousine services elevate your experience, whether you're heading to a concert, dinner, ski trip, or simply planning a day out for shopping with your girls. We understand that time is invaluable, which is why we promise safe, punctual airport transit along with reliable transportation for elder care doctor's appointments.
Your Safety, Our Priority
Our first and foremost commitment is to your safety. As our passenger, you're securely protected by our $1,000,000 commercial liability insurance for any bodily injury or property damage, inclusive of those caused by an uninsured or underinsured motorist. We have an uncompromising approach when it comes to our team of drivers; each one undergoes a stringent background check, including fingerprinting and cross-matching with federal crime databases. Furthermore, they are continuously monitored to ensure strict adherence to our zero-tolerance policy against drugs and alcohol. At Idaho Towncar, your peace of mind is our top priority, because when we're behind the wheel, your journey matters as much to us as the destination.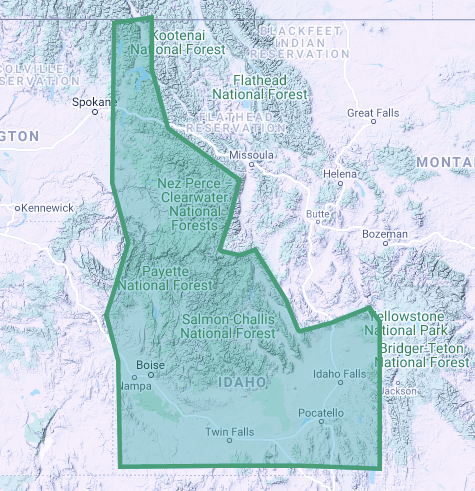 Serving the Heart of Idaho
With a focus on serving the heart of Idaho, our reach extends across a broad service area that includes key locations such as Boise, Meridian, Eagle, and Kuna. Our commitment doesn't stop there; we are proud to extend our exemplary transportation services to communities located within a 100-mile radius of these hubs. Idaho is more than just our service area; it's our home, and we take immense pride in providing our neighbors with outstanding town car and limousine services. Here at Idaho Towncar, we don't just operate in Idaho; we serve, contribute, and proudly represent the spirit of our beautiful state.
Reserve a Ride
Testimonials
The entire experience, from booking to confirmation to pick-up to a 4:40 am drop-off at BOI, was exactly what it should be—professional and stress-free.

-Dan B.

Idaho Town Car was great to work with and did everything they said they would do!! Our chauffeur was actually earlier than expected and very kind. We would definitely recommend them!

-Brittany M.

Thank goodness for Idaho Towncar. We could not have had a better experience. We used them to and from the Boise Airport; both drivers were waiting for us when we arrived. They were very professional and kind. Thank you for the EXCELLENT service.

-Kate K.
Blog Posts
Before you hit the friendly skies, get friendly and on time car service to the airport!

Before you hit the friendly skies, get friendly and on time car service to the airport!
FAQ
Why is Idaho Towncar so popular?

Idaho Towncar has gained a well-deserved reputation as the provider of choice for top-tier transportation services throughout Idaho. Our success and popularity are rooted in our dedication to offering the most luxurious, punctual, and safe transportation services in Boise, Meridian, Eagle, Kuna, and within a 100-mile radius. What sets us apart is our unwavering commitment to passenger safety, as evidenced by our comprehensive background checks for drivers and a strong insurance policy. Our transportation services also cater to a range of occasions and needs, from weddings and proms to elder care appointments and airport transits, ensuring a stylish and comfortable ride every time. The consistently high quality of our transportation services, combined with our unparalleled dedication to customer satisfaction, is why Idaho Town Car has become the go-to choice for transportation services across the Gem State.
Privacy Policy

At Idaho Towncar, we are deeply committed to protecting the privacy and personal information of our customers. The information you provide us, including but not limited to your name, contact details, and travel itinerary, is used solely for the purpose of providing you with our transportation services and enhancing your overall customer experience. We do not share, sell, or disclose your personal information to third parties, except as required by law or in situations necessary for the fulfillment of our services. Our website may use cookies to improve user experience, but these do not collect personally identifiable information. Your trust is our highest priority, and we strive to safeguard your personal information with the utmost care and respect. We encourage our customers to review this policy regularly for any updates.
Refund Policy

At Idaho Towncar, our highest priority is ensuring an exceptional customer experience, and we deeply appreciate your trust in our services. We understand that despite our meticulous preparations, unforeseen circumstances can occur. Our vintage vehicles, while aesthetically pleasing and well-maintained, are subject to the quirks of age and may occasionally face mechanical issues. In such instances, rest assured that we will promptly send a backup vehicle to prevent any disruptions to your event.

However, if you ever feel that we haven't met our commitment—providing a clean, beautiful car and a professional driver—we strongly encourage you to contact us immediately at 208-871-6900. We take your concerns seriously and will promptly address them. In the unlikely event that we fail to show up for an event—a situation that has yet to occur in our company's history—we will issue a full refund.

Additionally, if your event runs over the allotted time, we will inform you of any additional costs in advance of charging them to ensure transparency and fairness. Your satisfaction is central to our service, and we are dedicated to making things right when they go wrong.
How can I get in contact with you?

We at Idaho Towncar are always eager to hear from you, and we value your feedback and inquiries. Whether you have questions about our services, need assistance with booking, or would like to provide feedback on your experience with us, please don't hesitate to reach out.

Phone: 208-871-6900
Email: idahotowncar@gmail.com

Address:
277 S 27th St
Boise, ID 83702

We are committed to responding promptly and providing the assistance you need. Our dedicated customer service team understands the importance of clear and efficient communication, and we are ready to go above and beyond to ensure your complete satisfaction. Thank you for considering Idaho Town Car for your transportation needs. We look forward to serving you.